IMTS Motto "To make sure no individual is deprived of the right to educate themselves and can-do maximum value addition in their knowledge and professional profile to contribute to the country's economic growth"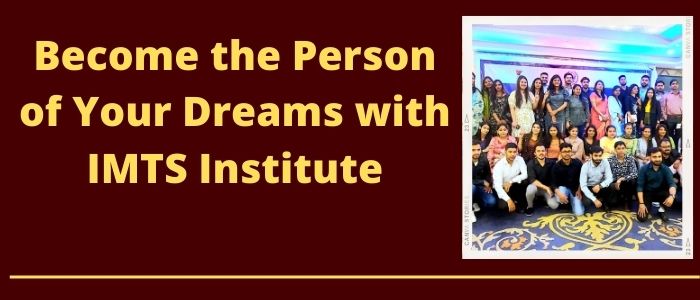 IMTS Motto has always believed an educated individual can change the world in a positive mannerism that non-educated and opportunity deprived person cannot. Education prepares an individual to take informed risks in their lives and leverage the maximum benefits of the opportunities that life bestows upon them over time. 
Having counseled over 25000+ individuals to date, we have encouraged students to be entrepreneurs and innovators of tomorrow and to prepare them for the professional battlefield. By catering more than 420+ courses – vocational and professional; we pioneered and inspired students to take up distance learning courses to continue their education remotely. 
IMTS understands that everyone must have the equal right to get quality education at all levels as their basic human right. Professional and technical education must be widely available, and higher education must be open to everybody on a merit-based basis.
Education must be geared toward the complete personality development of the human and the reinforcement of human rights and basic freedoms. Its mission is to promote friendship, understanding, and tolerance among all nations, religions, and races and support the United Nations' efforts to keep the peace.
IMTS recognizes that a well-educated individual may make a significant difference in the world. However, there cannot be created any change by a person who is non-educated and has always been denied the opportunities.
Education equips a person to make educated decisions in their lives and maximize the benefits of life's possibilities over time. We have inspired students to be tomorrow's innovators and entrepreneurs, and we have prepared them for the professional battlefield, having advised over 1000+ persons too far by our counseling.
We inspired and developed the minds of students to get their education remotely by taking distance learning programs. We continue this motto high by providing 120+ professional and vocational courses.
IMTS is not like others that provide a diverse range of courses, majors, and extracurricular activities, yet firsthand experiences suggest that many students do not believe the information presented in their lectures and readings is relevant to their life. Other research suggests that many teachers do not offer their courses in the most effective way to meet the goals that the faculties themselves value.
The IMTS institute works differently from others and thus proves itself to be the most reliable choice for students. Further basic reforms will take time to implement, but they may eventually result in even bigger improvements in undergraduate education quality if adopted properly. Some of these may include:
Improving Education at Graduate level: 
Everyone should be taught at least at graduation level to make their career safe and get a wide range of employment opportunities. When a student comes into a professional field, its performance is affected by the level of education s/he has achieved even though many of the graduates having higher certificates do not work well because of the lack of skills and professional training.
Our distance learning education is organized specially for such students who cannot carry their studies, but they can get this opportunity with IMTS by enrolling in distance learnings. IMTS is striving with its best to supply support for students so that they do not hamper their steps forward to a bright future. We help our students get the certificates they require to work in a good workplace by learning through our online distance education.
We know that many students have financial issues, and they have to work part-time to meet the expenses of their studies. Hence, it is impossible for such students to visit the university daily and attain classes to continue education and keep in contact with the admin for the latest updates. Such persons even do not have time to take counseling rounds and no time for the admission process. Keeping this thing in mind, IMTS has organized its complete online setup for admission, counseling, educating students, and other updates; thus, no one needs to visit the university.
IMTS motto to improve education at all levels, but it becomes more important to take some necessary steps at a higher level. Our motto includes enhancing technology, training, and developing courses at the UG level, and giving all students an equal right. We are focused more on this approach because researchers have proved in their studies that when education is not promoted up to UG level, then the chances of unemployment are more. Meanwhile, IMTS, with the introduction of new technology, has resulted in the development of instructional approaches that necessitate specialized training.
IMTS aims to eliminate the present gaps in the preparation of most graduate students, becoming increasingly of a handicap as research. We develop promising ways of engaging students actively, detecting issues they are experiencing learning the content, and altering teaching techniques accordingly.
Creating an Advanced Faculty for Teaching:
Many students do not continue their studies in distance learning because of the lack of facilities offered by other institutes. One of the most noticed problems is not having a good teaching faculty. If the instructor is not well educated and expert, then they cannot impart a change to the student's mind. Our instructors are selected in such a way that they occupy the advanced expertise relevant to their teaching fields.
IMTS has successfully eliminated this gap and has built confidence in students for distance learning through its best teaching faculties. We have managed to solve the issues of students and have guided them in every step towards their bright careers.
Setting an Affordable Fee Structure:
One of our guiding principles is to make education fees as low as possible so that everyone can take part. We know that because of financial issues, many students are forced to stop moving forward.
Rethink and Reset the Study Curriculum:
Not all the time, an institute's study curriculum is according to the mental needs of the students; thus, it needs to be reset from time to time. IMTS considers having a curriculum that is advance and acceptable to every student's mental health. This is because when the curriculum is interesting, students ultimately take an interest to gain knowledge.
As per the IMTS motto it has managed to keep its motto high by spreading its education to the rural areas where educational facilities are zero and where no other institute has yet gone.
IMTS carries multiple career counseling and training for such people to fully understand the importance of education.
IMTS motto includes a complete set of goals to thrive for quality education.