MBA Course: The Master of Business Administration is a 2-year program and is considered one of India's most popular graduate degrees. The MBA Course is designed for students pursuing a career in business or working professionals. MBA programs require a graduation degree as eligibility criteria.
There are three modes of studying for an MBA: regular, online, and distance learning. It is an excellent postgraduate program with excellent career prospects. In terms of job opportunities, an MBA is the most promising degree.
After completing the MBA degree program, applicants must choose effective and sound profiles: Marketing Manager, Chief Technology Officer, Financial Manager, Health Services Manager, Information Technology Director, etc. The average MBA salary ranges from 2.14 to 7.6 LPA.
MBA Course Details
| | |
| --- | --- |
| Full Form | Master of Business Administration |
| Level | Post Graduate Degree |
| Types of MBA Courses | Regular MBA, Distance MBA, Online MBA, Integrated MBA |
| Duration | 2 Years |
| Exam Type | Semester |
| Minimum Eligibility Required | Bachelor's Degree |
| Fee Structure | 40, 000 to 2 Lakhs Per Annum* |
| Average Salary | INR 3 to 10 Lakhs Per Annum* |
| MBA Selection Process | Entrance Exam/ Merit-Based (Private Colleges or Universities) |
| Popular Entrance Exams | CAT, MAT, XAT, SNAP, ATMA, CMAT, NMAT, GMAT |
| Top MBA Specialization in India | Marketing, Finance, Human Resources, IT, Operations, Digital Marketing, Business Analytics |
| Top MBA Recruiters | Amazon, Flipkart, Google, Nike, Deloitte, Apple, Microsoft,  Tesla, LinkedIn, and Top Banks. |
MBA Course Admission 2023
MBA admission for the 2023 session is open for new candidates at numerous universities, such as IGNOU, Manipal, LPU and many more.  Admission has started in an online format, and assumingly both Manipal and LPU will accept applications by the second week of February. Candidates interested in applying for the MBA program at IGNOU must submit a completed application form by January 31, 2023.
Those categories of students who have not yet made up their minds due to the question of not finding suitable universities for themselves can contact us. The IMTS Institute will listen to your query, and suggest the best possible answers.
Aspiring students can contact us via Whatsapp, social media, telephone/mobile, and submit the query form available here on the website. Our counseling team will contact you as soon as possible. 
We'll need some of your basic information in order to provide the best answers to your MBA admissions-related questions. Simply ping us, and we'll get back to you right away. The service from IMTS Institute is completely free.
MBA Course Eligibility Criteria
Students who meet the minimum requirements outlined in the sections below are eligible for admission to the MBA advanced degree program.
BBA General/BBA Hons or Any relevant degree from a recognized or accredited university.

Qualifying degree examination should have a duration of three years. 

Admission to the MBA program requires a minimum passing score of 50%.

Most often, universities create a merit list based on the results of the entrance exam and qualifying examination to narrow down the pool of applicants.
Trending MBA Course Admission News Update
The application process for JNU MBA has begun at Jawaharlal Nehru University. Applications for the JNU MBA 2023 program must be submitted by March 15, 2023.
Applications are invited for admission to MBA Course at IIT Guwahati for the session 2023. Eligible candidates can apply before 20 February 2023.
Students can apply for the Amity University MBA Program until January 30, 2023.
The Indian Institute of Technology Roorkee has invited applications for its 2-Year Full-Time MBA Course through 31 January 2023.
Applications are invited for MBA admission to NALSAR University of Law. To apply, please visit https://apply.nalsar.ac.in/asm-form by 3rd February, 2023.
The registration process for the MBA Course at Rishihood University Sonipat has begun. To apply, visit Rishihood University's official website – rishihood.edu.in – before 30 April 2023.
Applications are now being accepted for the MBA program at VIT Business School. March 5, 2023 is the deadline for application submission.

PGDM and MBA programs at Accurate Institute of Management and Technology (AIMT), Greater Noida are now accepting applications for full-time courses. Applications are due by April 15, 2018.

Admissions to Sri Sri University's MBA program are currently being accepted. The SSU-CET exam is scheduled for January 22, 2023.

Admissions are open for the full-time Master of Business Administration (MBA) 2023 program at University of Engineering & Management (UEM), Jaipur.

An MBA programme in Food & Agribusiness Management is available at the Imperial School of Agribusiness.
MBA Fees in India
The fee of the MBA program varies from university to university, but the factors that go into building up the fee of the program are registration, admission, and tuition. The private, state, central and deemed-to-be universities normally charge around INR 60,000 to 3.21 lakhs for the complete program fee. 
The universities do not ask for the course fee all at once; in fact, students are permitted to pay the fee semester-wise or annually. The list below includes some universities that can be highlighted to provide an idea of the MBA fee structure.
Guru Gobind Singh Indraprastha University (IPU) held a fee for the MBA program of INR 76,000.

Delhi University's Faculty of Management Studies asks for the amount of INR 1.92 Lakhs for the MBA.

Indira Gandhi National Open University (IGNOU) Course fee for the MBA program is 62,000 Indian rupees.

IMTS MBA Course fee are INR 24,000 to 40,000 per year* (Depend on University, as per student eligibility criteria & Requirements)
MBA Course Admission Process 2023
The MBA admissions process adheres to the principles of bachelor's performance or entrance exam/qualifying exam scores. The sections that follow will help us understand how to apply for admission to the various MBA degree programs.
Qualifying Exam-Based Merit Admission 
Admission with the help of qualifying exam merit is the simplest way to get admission to the MBA program. The responsible universities for this way of granting admission shortlist candidates as per their scores in the bachelor's degree program. 
Candidates who have been shortlisted or pre-selected must finish the admissions process by verifying their documentation and paying the necessary fees before the deadline. Universities like NMIMS, DY Patil, etc., offered admission directly without the entrance test.
MBA Course Entrance Test 2023
Mostly, the universities in India follow the pattern of entrance tests before offering any seat of  an MBA program to aspirants. The procedure for admission via this route entails adding the results of the qualifying degree examinations and the entrance examinations to produce a merit list. 
The merit list is typically posted on the university's official website, but some also announce it on notice boards around campus so that students can find their names there. The admissions process, which includes document verification, a personal interview, and a fee deposit to confirm admission, must be completed by all applicants whose names appear on the list.
The following sections provide examples of some entrance exams that are administered at the university, state, and central levels for admission to MBA programs.
Common Admission Test (CAT)

Common Management Admission Test (CMAT)

Xavier Aptitude Test (XAT)
From the article's next section, let's learn more about each in depth.
Common Admission Test (CAT): The "CAT" entrance exam is well-known among students. The Indian Institute of Management administers it in computer-based test (CBT) mode, enabling students to fulfill their dream of enrolling in an MBA program at a top-tier management university. The cost of the CAT exam application form is 2300 Indian rupees, which applicants must pay online.
Common Management Admission Test (CMAT): The online test "CMAT" is a national-level entrance examination conducted by the National Testing Agency. The three year online program comes up with the phenomenon of proposing the admission opportunity at AICTE-approved colleges in India. The male and female candidates application form cum examination form fees are INR 2,000, and INR 1,000 respectively.
Xavier Aptitude Test (XAT): The management entrance examination "XAT" is conducted or administered by the XLRI, Jamshedpur, for the purpose of admission to over 160 colleges across the nation. The exam, too, is held in computer-based test (CBT) mode and consists of 105 questions. Candidates will have to pay INR 2000 to sit in on the XAT examination.
Types of MBA Course
A variety of MBA program learning mode have emerged, targeting specific types of learners due to the high demand for MBA course. A Distance MBA or Online MBA can be studied by people who are already employed. Below is a list of the different types of MBA programs.
Regular MBA Course;
In the Full-time/Regular MBA program, classes are regularly held in a physical setting. A fixed schedule of classes is provided for the students' benefit. Both theory and practical classes are included in the curriculum. Industrial visits are offered as part of MBA programs in top companies. Placements in top MNC's offer better career opportunities to Regular MBA course students.
An MBA program consists of a structured, comprehensive curriculum offered over 2 years.

A full-time degree in management provides students with the opportunity to learn management skills.

This course is most popular with students, and the fee ranges from INR 1 LPA to INR 30 LPA.
Full-time/Regular MBA programs are available in HR, Marketing, Finance, and more than 50+ specializations. The program is also offered through an entrance exam.
Distance MBA Course;
For those who cannot take a full-time MBA programme due to many circumstances, such as lack of funds or busy work schedules, a Distance MBA is an excellent study option. It is an affordable and flexible option for MBA candidates who do not need to attend classes on a regular basis. A hybrid method is used for distance MBA classes. Some institutes or centers may require students to visit on weekends. The UGC/AICTE recognizes distance MBA programs.
Graduates of any recognized college or university are eligible to apply for the Distance MBA programme.

Distance MBA programs do not have any age restrictions.

Distance MBA courses are flexible in terms of duration. Depending on the student's capabilities and convenience, the program can be completed in 2 to 5 years.
Distance MBA programs are more affordable and accessible than regular MBAs because of their lower fees. INR 30,000 to INR 1.5 lakh Per Year is the average distance MBA fee.
Top Distance MBA Specializations in India 
Trending Online Courses in India 2023
Online MBA Course;
The Online MBA is a two-year PG degree in business administration that covers all aspects of a regular MBA. Working professionals who don't want to interfere with their jobs or studies should strongly pursue this program. As a result, it can be used as an additional course or qualification to enhance skills or knowledge. Only graduates or professionals can enroll in an online Master of Business Administration (MBA). The fees for an online MBA course are lower than those for a regular MBA course, which range from INR 40,000 to INR 2 LPA Per Year.
Key Features of an Online MBA
In addition to providing flexibility, distance learning students can complete the MBA program at their own pace.

In terms of fees, this is also a cost-effective course for employment professionals.

With an online MBA, you can tailor your career needs without working or for personal reasons.

It is required that students hold a degree from a recognized university with at least 50% of the total points.

Online MBA programs are open to students of any age.
Why Study MBA Course from IMTS Institute?
IMTS Institute has a remarkable reputation in the education arena. The Institute which came in the year 2005, has helped thousands of students reach a successful destination. 
The establishment of IMTS has been made to pass counter difficulties students face while looking for program admission at any university in India. 
The institute lay down a solid foundation for students to stand upon, and see the opportunities in various universities in India. IMTS institute represents a phenomenal score of 99 percent in passing for the past 17 years which shows consistency at another level.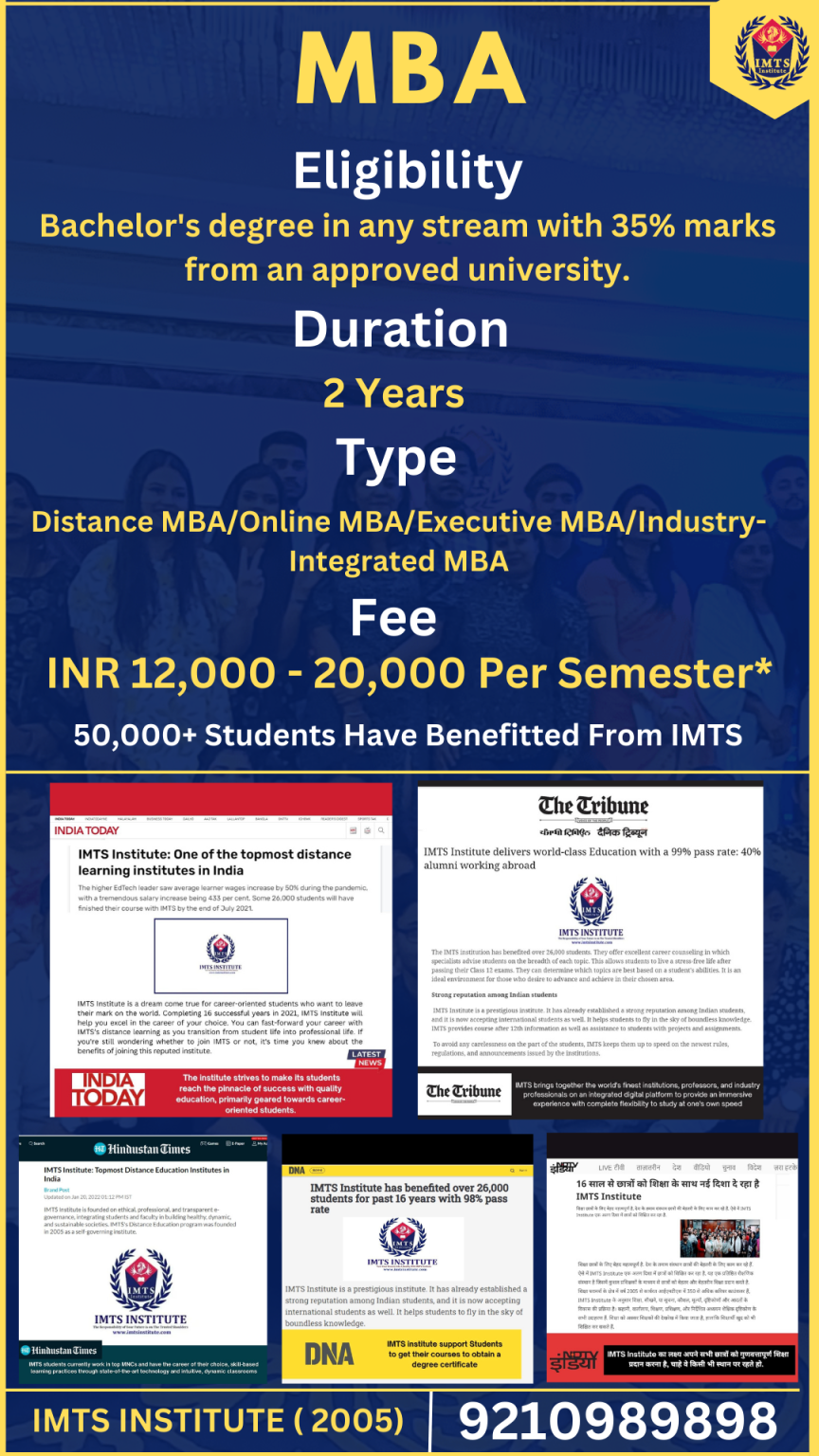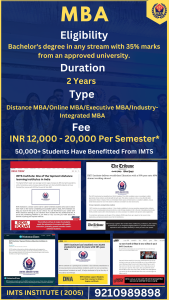 Eligibility Criteria:
MBA is a postgraduate-level degree program. Students who want to get admission to an MBA course through IMTS Institute-affiliated universities must fulfill the eligibility criteria. 
Students must have a BBA or equivalent degree with at least 50% marks from UGC-approved universities in India. 

The minimum percentage for the reserved categories is 45%.

Students can download the IMTS Institute

MBA Prospectus

Here.
Fees:
The MBA PG Advanced degree program in the reputed private, central, and state universities associated with IMTS Institute held a different program fee. The fee for an MBA degree program is INR 12,ooo to 20, 000 Per Semester.
MBA Course Duration:
MBA is also known as Master of Business Administration, and the duration of the MBA course is a 2-Years. Students who want to take admission to this course must have a bachelor's degree with at least 45% marks from a recognized university. Students can pursue different types of MBA programs, such as part-time MBA, Integrated MBA, Online programs, and more.
MBA Course Specializations List in India:
MBA in Marketing 

MBA in Finance

MBA in Banking

MBA in Human Resources

MBA in Information technology

MBA in International Business

MBA in Digital Marketing

MBA in Hospitality Management

MBA in Media Management

MBA in Construction Management

MBA in Fashion Designing

MBA in Material Management

MBA in Operations Management

MBA in Project Management

MBA in Quality Management

MBA in Textile Management

MBA in Total Quality Management

MBA in Rural And Marketing Management

MBA in Shipping And Port Management
MBA in Marketing:
MBA in marketing is a 2 year postgraduate degree program. It's a specialization of MBA that discusses marketing strategies, promotion, and branding. Currently, MBA marketing is one of the most popular specializations among MBA students. Since almost every business and organization needs marketing to compete against big competition, the scope of an MBA in marketing has become very wide.
An MBA in marketing can earn anywhere from INR 3 lakh to INR 20 lakh, depending on seniority, company, and sector. There are a number of leading recruiters, including Tata Consultancy Services, Vodafone, Amazon, Citibank, HDFC Bank, and Kotak Mahindra Bank. Marketing graduates are hired by FMCG giants (such as HUL, P&G, Marico) and international advertising agencies such as Ogilvy, DDB Mudra, McCann Erickson, etc.
MBA in Digital Marketing:
MBA in Digital Marketing is a 2-year PG Course focused on promoting and advertising products, services or brands through electronic or digital media. Students with an MBA Course in digital marketing gain technical knowledge of digital platforms. According to a report by Forbes, digital marketing jobs are among the top 10 trending jobs in India, earning an average salary of INR 5 LPA. MBA in Digital Marketing is one of the top MBA specializations in demand. The average annual fees range from INR 3,000 to INR 20,000.
Applicants must have a bachelor's degree from a recognized university/college/institute in any discipline such as BBA, BA, B.Sc, B.Com, or BCA. There are many career opportunities available after completing a master's degree in Digital Marketing Management, including SEO Executive, Digital Marketing Executive, Social Media Manager, Advertising Executive, Brand Reputation Officer, and much more. There are many job opportunities for MBA in Digital Marketing Professionals at top brands such as Google, Amazon, LinkedIn, Facebook, Swiggy, Flipkart, Zomato, and Accenture.
Why Choose MBA Course?
Master's degree program MBA is very popular among youth for more than a decade. What is the reason? Why do students like to study in MBA programs? What makes an MBA a unique degree? The answers to these questions will be revealed in the upcoming sections. 
The MBA program in management and business is designed for candidates who want to work in leadership and management positions. Every student has the opportunity to develop through the career-focused program, which gives them a wealth of experience and prepares them for opportunities in the working world.
Without a management team, no organization can function. This is where this degree comes in to play. The curriculum of the MBA course is made up in a manner that students get sufficient theoretical knowledge, and practical experience. 
The Master of Business Administration advanced degree program offers students the ideal environment to develop the following skills:
Leadership, negotiation, and Management.

Communicational skills.

Decision-making that is calculated and analytical.

Data collection and networking.
Candidates have the opportunity to demonstrate their skills on a professional level after completing the MBA degree program at a university that has received UGC approval. The professional entry allows them to get decent salary packages of INR 7-10 LPA at the beginning of their careers. Following post-graduation, candidates may find employment as a manager, media planner, business owner, assistant manager, HR executive, etc.
When to pursue MBA Course?
Top MBA schools want applicants with at least 2-3 years of job expertise.

Because of the large monetary incentives, the Master of Business Administration is in short supply. As just a consequence, obtaining an MBA degree seems to have become cost-prohibitive.

Learners should have a monetary plan in place. Most people cannot bear an MBA and leave during their studies.
MBA Admission 2023 without entrance exam
If you are thinking to take admission without the entrance exam and feel as it is impossible then you are wrong because there are universities/colleges that take direct admission into them. There are universities which take direct admission through the management quota. The main benefit of getting admission is that the student will save more of their time as in order to get the exam cleared student invest their 9-12 months and without preparing for the exam they can still get a good college for the course.
MBA Course Syllabus 2023
The duration of the Master of Business Administration is two years. If we talk about the MBA syllabus in India, then the MBA syllabus varies from university to university. Below, we have provided students' complete MBA syllabus (tentative) for 2023. For accurate information,  visit the official website of the university/college

MBA Subjects for 1st Semester
Principles of Marketing Management
Business Communication and Soft Skills
Microeconomics
Organizational Behavior 1
Corporate Social Responsibility
Quantitative Methods and Statistics
Tools and Framework of Decision Making
Principles of Accounting
MBA Subjects for Semester 2
Business Law
Corporate Finance
Macroeconomics
Optimization and Project Research
Project Management
Organizational Behavior 2
Operations Management
Marketing Management
MBA Subjects for 3rd Semester
Supply Chain Management
Financial Modelling
Strategic Management
Marketing Research
Managerial Economics
Business Intelligence
Corporate Governance and Business Ethics
Corporate Finance 2
MBA Subjects for Semester 4
International Business Environment
Strategic Management
Project Study
Elective Course
Top 10 Government MBA College/University List in India 2023
| | |
| --- | --- |
| S.N | Name of Institution for MBA Course (Government Colleges) |
| 1 | Faculty of Management Studies, University of Delhi | (FMS-Delhi) |
| 2 | Indian Institute of Foreign Trade New Delhi | (IIFT-New Delhi) |
| 3 | Indian Institute of Management Ahmedabad | (IIM-Ahmedabad) |
| 4 | Indian Institute of Management Bengaluru | (IIM-Bengaluru) |
| 5 | Indian Institute of Management Kolkata | (IIM-Kolkata) |
| 6 | Indian Institute of Management Kozhikode | (IIM-Kozhikode) |
| 7 | Indian Institute of Management Lucknow | (IIM-Lucknow) |
| 8 | Jamnalal Bajaj Institute of Management Studies Mumbai | (JBIMS-Mumbai) |
| 9 | National Institute of Industrial Engineering Mumbai | (NITIE-Mumbai) |
| 10 | Shailesh J Mehta School of Management Mumbai | (IIT-Mumbai) |
Top 10 Private College/University List in India 2023
| | |
| --- | --- |
| S.N | Name of Private Institution for MBA Course |
| 1 | Amity University, Noida |
| 2 | Chandigarh University, Punjab |
| 3 | Lovely Professional University, Punjab | (LPU-Punjab) |
| 4 | Management Development Institute, Gurgaon | (MDI-Gurgaon) |
| 5 | Mudra Institute of Communications, Ahmedabad | (MICA-Ahmedabad) |
| 6 | NMIMS School of Business Management, Mumbai | (NMIMS-Mumbai) |
| 7 | S P Jain Institute of Management & Research, Mumbai | (SPJIMR-Mumbai) |
| 8 | Symbiosis Institute of Business Management, Pune | (SIBM-Pune) |
| 9 | Xavier Institute of Management, Bhubaneswar | (XIMB-Bhubaneswar) |
| 10 | Xavier Labour Relations Institute, Jamshedpur | (XLRI-Jamshedpur) |