DMLT Course: The Diploma in Medical Laboratory Technology is the full form of DMLT and is a 2-year program offered in various UGC-approved institutions across the country. The diploma course has evolved for the domain of paramedical science. The course contains some specialized subjects which are built upon the learning of human body fluids such as urine, plasma, saliva, etc. Individuals who manage to pass this specialized program are recognized or called Medical Laboratory Technicians (MLTs). 
DMLT program can be taken after securing a 50% score in the 12th level of studies. Passed higher secondary exams must include mandatory subjects such as physics, biology, and chemistry. The average fee for the DMLT program is INR 20,000 per year. Students can deposit the prescribed fees semester-wise.  
DMLT Course is designed in the following pattern: four semesters, core subjects, elective subjects, projects, and practical workshops. The core subjects of DMLT include human anatomy, MLT fundamentals, human psychology, biochemistry fundamentals, etc. The elective subjects comprise clinical hematology, clinical microbiology, technical microbiology, and clinical biochemistry. DMLT course qualification is mentioned below read out the article.
The class will be taught by including a wide variety of important aspects, including things like seminars, group projects, digital learning, conventional learning, practical lab sessions, self-learning, and much more.
The Diploma in Machine Laboratory Technology allows students to brighten their academic profile by including higher studies. Options are pretty much wider for the DMLT-passed candidates such as BMLT, BSC in Medical Imaging Technology, PG Diploma in Laboratory Services, PG Diploma Medical Laboratory Technology, and more. Students shall learn more about the mentioned courses in the article ahead. 
Students who acquire the DMLT two-year (four semesters) diploma program can have a sound professional career with a decent salary. The Job roles of the DMLT Professionals include Lab Technician, Pathology Technician, Medical Writer, Medical Technician, etc. An average salary for DMLT-based professionals is between INR 2-3 LPA.
DMLT program detailed information that contains admission, eligibility, fees, and much more can be studied in the following sections of the article.
DMLT Full Form: The DMLT course stands for Diploma in Medical Laboratory Technology.
DMLT Course Highlights
| | |
| --- | --- |
| Course | DMLT |
| DMLT Full Form | Diploma in Medical Laboratory Technology |
| Level | Diploma |
| Duration | 1 to 2 Years |
| Eligibility | Passed 10th & 12th class with 50% marks |
| Minimum Age  | No age criteria for the course |
| DMLT Course Subjects | Human Psychology, Clinical Microbiology, Biochemistry |
| Fee | Rs. 20,000 per annum |
| Average Salary Offered | INR 2 to 3 LPA |
What is DMLT? 
A Diploma in Medical Laboratory Technology (DMLT) is a medically trained scientific discipline for the diagnosis and treatment of diseases. In the DMLT program, students learn how to examine, evaluate, and identify different ailments. A urinalysis, blood test, or other sample collected analyzes the fluids in the heart valve, the perivascular fluid, and the pleura. Furthermore, people learn how to use research lab equipment and technology. Practical experience can be gained by using medical equipment such as X-ray machines, CT scanners, MRI machines, etc.
The DMLT diploma can be pursued in any of the specializations including Radiology, Microbiology, Clinical Biochemistry, Genetics, Clinical Chemistry, and others. The program will prepare students to operate sophisticated laboratory equipment, perform precise medical laboratory tests, and find employment as laboratory technicians or technologists.
DMLT Course in Details

 
A diploma in Medical Laboratory Technology is the full form of the DMLT Course.

It is a 2-year duration program in which learners acquire a thorough understanding of Microbiology, Blood Bank, Pathology, and Biochemistry.

DMLT admission is mainly based on a student's performance in the 12th standard qualifying examination with at least 50% marks.

DMLT course fees in Government College? The fee for a DMLT Course in Government Colleges in India is Rs 12,540 to Rs 36,845 per year. 

There is no particular entrance examination; however, academic institutions such as NIMS and several public universities hold a Common Entrance Test (CET) to short-list aspirants.

The DMLT curriculum costs can range approx INR 20,000 per year. In public institutes, the course fee is lesser than the fee of private institutes.

The most common study modes adopted for DMLT courses in India are full-time, part-time, and online learning.

In 2019 there were 3,37,800 DMLT unfilled jobs, with a 7 percent growth expected by 2029, implying that approximately 25000 fresh employment opportunities would be generated by 2029.

DMLT degree holders can find jobs in Public or Private Healthcare facilities, universities and colleges, military services, medical content writing, pathology labs, and so on.

Depending on the job description and level of skill, the typical yearly pay of DMLT-experienced candidates ranges from INR 2 to 3 LPA.
Why DMLT after 12th?
MLT, or Medical Laboratory Technology, aids in diagnosing and treating diseases as part of the medical industry.

Even though medical lab technicians operate behind the action sequences, those who perform an impact create a part of Lab system applications.

Are there any allied health sciences researchers interested in working in this field? Then DMLT is one of your best options.

It is among the fastest-growing disciplines in care services around the world, as well as the number of pupils who choose it could indeed enjoy a multitude of types of occupations that match the expertise that you managed to learn.

There has been an outcome in the health sector with the advent of newer ailments, as well, as selecting such a DMLT course curriculum would give multiple chances in science and medicine.

A few crucial things to consider when selecting this curriculum: There are numerous career options in public and private areas. 
Who Should Pursue DMLT? 
Acquiring further into the world of healthcare is among the most difficult and difficult sections of someone's life.

For those who believe it is hard to gain admission to the MBBS, this is perhaps the most wonderful option to advance a career in medicine.

This program is intended for aspirants willing to take part in the examination, diagnostic test, and therapeutic interventions for various health issues.

The DMLT course is an opportunity for students aspiring to build a successful career around laboratories and testing agencies.

Applicants with an interest in improving the level of health and medicines with various improvements that they can bring with their skills should opt for the course.

The students who have the will to make their surrounding health better in the medical prospect should apply for admission into the course.
Why Study DMLT Distance Education?
A distance education programme is one where the teacher is separated from the students. There are several reasons why students take distance education seriously. DMLT Distance Education has the following benefits:
Buying books is less expensive

Student can easily complete their study while working

There are a lot of options in terms of colleges while studying DMLT Course

Students can stay up to date without leaving their job with this method.
DMLT Eligibility Criteria
Numerous academic institutions in India necessitate applicants to follow the required qualifying criteria so to become eligible for the course of DMLT:
Applicants must have completed their intermediate with a base level of 50 percent in 10+2 examinations, with Biology/ Mathematics, Chemistry, and Physics, as required subjects.

Few colleges also provide the course to 10th-class qualified students with a 50 percent accumulation. There is no specific age limit set for DMLT admissions by any Indian Institute.

Applicants anxiously anticipating their Senior Secondary Exam, as well known as the HSC, could indeed pertain to the Diploma in Medical Laboratory Technology.
DMLT Course After 10th
DMLT course is a diploma program that provides after completing the 10+2 from the recognized board in the related stream. A diploma in Medical Lab Technician is considered the primary step toward making a career as a lab technician.
DMLT after 10th is an opportunity for students to mold their study in the specialization of medical laboratory and testing purposes just after completing their 10th class. Admission to DMLT after 10th is offered by multiple institutions based on the entrance test process, the tests are generally conducted at the national or state level.
Types of DMLT Course
Three types of DMLT are mentioned that are offered by multiple universities, including Full-Time, Part-Time, and online DMLT mainly in India. Read the following details about the course for more information.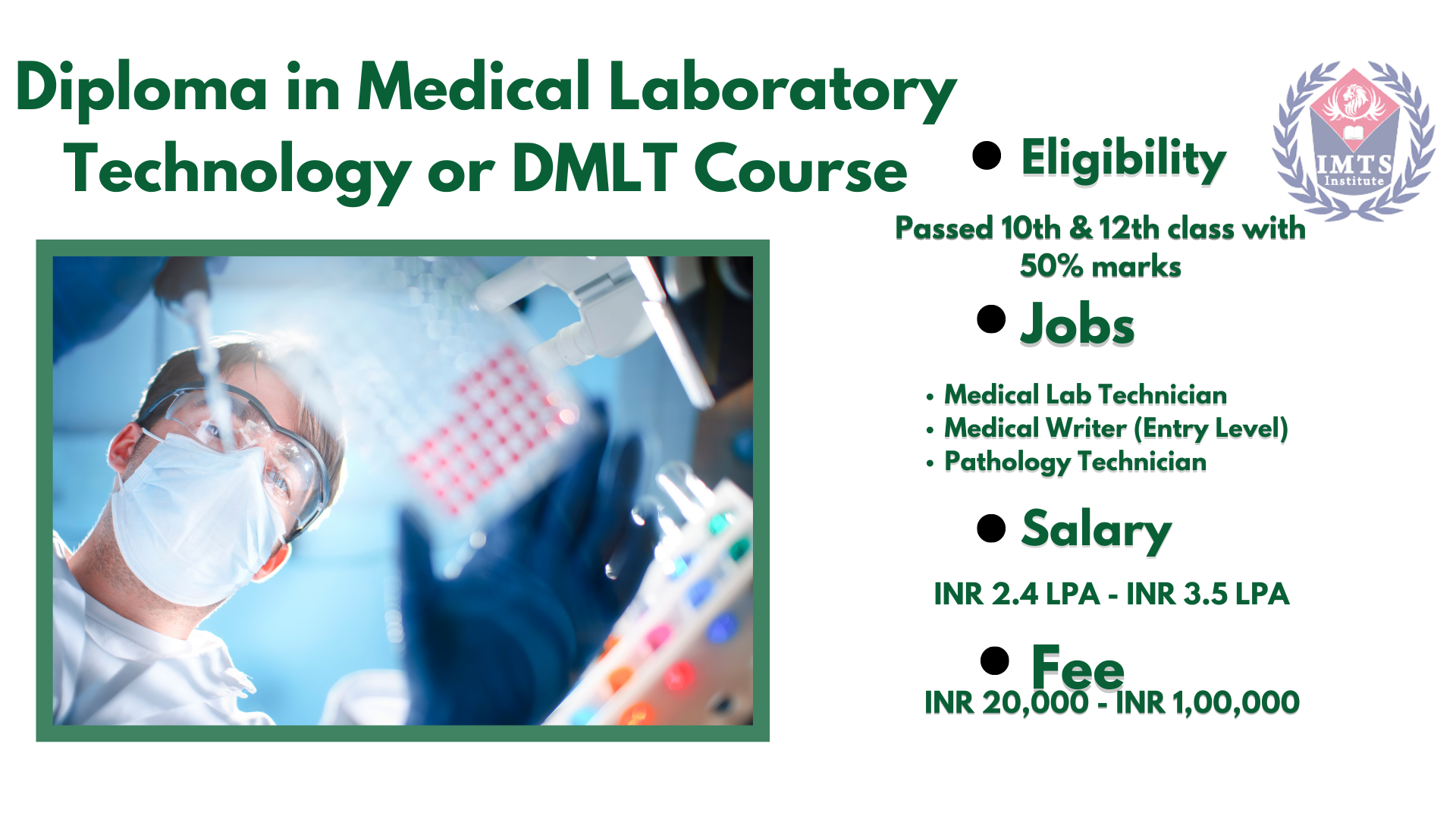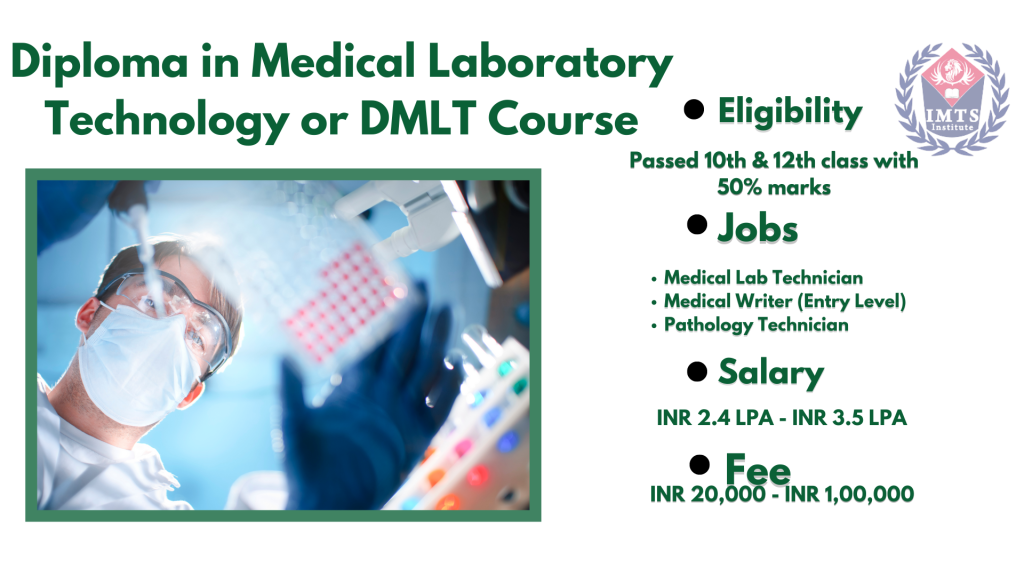 Full-Time DMLT
A Full-Time DMLT course is a two-year regular study program, and it is the most common type of DMLT chosen by a great number of students. Most of the top colleges or universities are there in India, where students can study this course. Its fee in a variety of Universities varies from INR 20,000 to INR 1,25,000 per year.
Upon completing the full-time DMLT course, students can apply to various medical laboratories to start their professional careers. They can also do internships in hospitals, healthcare centres, and medical research laboratories.
Part-Time DMLT
A Part-Time Diploma in Medical Laboratory Technology is intended to teach students by consuming fewer students time. In most cases, students do not take full-time and remain absent because they cannot spend their whole day on campus. This situation happens to the students for many reasons; they might be engaged in any job or other tasks. Thus, there is a need for such courses to facilitate working adults. With the help of such a learning method and after gaining the degree, students can get promotions while working in entry-level positions. (This course is currently not available in Part-time mode)
DMLT Course Admission 2023
Diploma in Medical Laboratory Technology (DMLT) admission 2023 is open. Several universities and institutions are accepting applications at present to offer admission to eligible candidates. The last date or deadline for the admissions process has been extended.
As soon as the deadline for admission passes, applicants will no longer be able to take advantage of the opportunity until the following session, so they should move quickly through the DMLT program admissions process.
The application fee needed to be paid when submitting the DMLT application or admission form ranges from INR 300 to INR 2,500, but admission fees vary from university to university or college to college for the professional diploma program.
Universities generally accept applications and the admission fee either online or offline. The online mode includes credit cards, debit cards, UPI, wallet, internet banking, and so on; while for the offline mode, candidates are required to go for demand drafts and cash.
DMLT course duration
Trending Online Courses in India 2023
The duration of pursuing the DMLT course from any institution is generally 2 years. Students who are pursuing the DMLT course get an extension for completing the course for 4 years or 5 years in some institutions to form clear the backlogs.
DMLT Admission Process
Admission for the Diploma in Medical Laboratory Technology is based on the score of the entrance exam. Detailed information about the DMLT admission process is given:
The mode for the DMLT application is offline or online by visiting the university or by visiting the university's official website. There is a minimum requirement of 45% to 50% aggregate marks that must be obtained by a student if he wills to get DMLT admission.

It is also possible to get admittance for DMLT after completing the 10th standard.

Some of the institutes for DMLT also conduct the entrance exam.

There may be some changes in the admission process of a particular institute that can be checked by visiting the online webpage of that institute.

Generally, the DMLT admissions in numerous institutes start in May or June of every year, and some institutes may have different dates.
Distance DMLT Admission Process
The admission process for distance DMLT courses can be varying, but the basic one is given as:
Any student who applies to a DMLT admission course must secure at least 50% marks in the 10+2 obtained from a recognized board. In distance mode, the entrance exam is not conducted. The related institute directly publishes a merit list. The age limit is not provided for distance admissions.
DMLT Course Specialization
The DMLT course is offered under multiple specializations for the students so that they can choose the best one for them, Some of the top looks specializations of DMLT are:
Parasitology

Molecular Biology and Applied Genetics

Coagulation

Ultrasonography

Immunology and Immunological Techniques

Microbiology

Biomedical Techniques

Biostatics

Clinical chemistry

Clinical Pathology

Electron Microscopy

Hematology

Bacteriology

Radiology

Cytotechnology

Clinical Biochemistry
DMLT Entrance Exam
There is no separate entrance test for the Diploma course in Medical Laboratory. Nevertheless, a few prestigious institutions, like NIMS University and St. Johns Medical College, hold a common entrance exam to shortlist aspirants. Some of the relevant entrance exams are given as:
MET:

MET is a university admission test administered yearly by the Manipal Academy of Higher Education (MAHE) for entries to numerous degree courses at the UG and PG levels provided at the university.

Amity University Entrance Test: Stud

ents can apply for the Amity DMLT program through an admission test conducted each year by Amity University. This entrance exam also requires eligibility for having 50% marks in the 10+2 examination.

Jamia Hamdard Entrance Test:

Anyone who aspires to get DMLT admission at Jamia Hamdard will need to appear in the Jamia Hamdard Entrance Test. It is an annual academic-level entrance exam held for various courses offered by Jamia Hamdard.
DMLT Entrance Exam Syllabus
The entrance exam conducted for the DMLT admissions will have a syllabus based on previous studies. There will be almost 4 sections in the whole paper, including biology, Chemistry, Physics, and English. Students must focus on all parts equally and start their preparation in a well-organized manner. The exam pattern will be such that 200 questions will be composed out of the given syllabus. Each question will carry a positive mark, and each wrong answer will carry a negative mark.
DMLT Course Syllabus
DMLT course is a 4 semester-based diploma program of two years. Pathology, Microbiology, Immunology, Biochemistry, and Pharmacology are the subjects covered in the DMLT program. Fellowships and initiatives created to suit the needs of the industry are also included in the DMLT curriculum. The way the curriculum is set up may be different from one institute to the next. The information about the curriculum for the Diploma in Medical Laboratory Technology, such as the topics covered during each semester and the course materials that top universities require.
Career Opportunities for DMLT Course
Once an individual completes the Diploma program in MLT, he or she can proceed toward either employment or advanced learning opportunities  
The MLT Diploma creates professional possibilities for eligible candidates in roles such as laboratory assistant, medical laboratory technician, laboratory supervisor, laboratory technologist, etc. The initial salary package for DMLT professionals is seen between INR 2 LPA and 3 LPA. 
A more in-depth or advanced program in the field, such as a BSc in MLT, an Advanced Diploma in MLT, an Advanced Certificate in Medical Record Technology, etc., is an option for students who want to learn more in the field.
Government Sector:
CT Scan Technicians

Scientist

Laboratory Technician

Clinic Manager

CT Scan and MRI Technicians
Private Sector:
Anesthesia Technicians

Pathology Technicians

Anesthesia Technologist

Operation Theatre Technicians
DMLT Colleges in India
In India, Diploma in Medical Laboratory Technology course is available for students who are keenly interested in studying different aspects of medical technology. This course is available in regular mode. The fee at DMLT Colleges in India may vary. 
There are several public & private colleges located in different regions of India such as Delhi, Kolkata, Mumbai, Tamilnadu, Kerala, Uttar Pradesh, Maharastra, Rajasthan, Banglore, Hyderabad, etc that offer Diploma in Medical Laboratory Technology at different fee ranges. Some of them are mentioned below:
DMLT Colleges in Delhi
Delhi has some top colleges where DMLT courses can be obtained. Admission to DMLT courses in these colleges is based on an entrance test. DMLT course fees in the colleges of Delhi is ranging from INR 20000 to INR 160000. A few of these are:
Delhi Institute of Technology and Paramedical Science

Rajiv Gandhi Paramedical Institute

Delhi Paramedical and Management Institute (DPMI)

Dr Zakir Hussain Institute

Institute of Para Medical Technology (IPMT)
DMLT Colleges in UP
There are several medical colleges located in Uttar Pradesh that offers Diploma in Medical Laboratory Technology to eligible candidates. Students can take admitted to a variety of DMLT colleges in Uttar Pradesh. Admission to this course is based on entrance basis. The DMLT course fee here is INR 20000 to INR 122000. Some of the top DMLT Colleges in UP include:
Amity University

Xavier Institute Of Medical Sciences

Aligarh Muslim University

Banaras Hindu University

Galgotias University

Mahatma Gandhi Institute Of Paramedical Sciences & Hospital

Sanjay Gandhi Postgraduate Institute of Medical Sciences

King George's Medical University

Dr Ram Manohar Lohia Paramedical College

APMI Atal Paramedical & Management Institute
DMLT Colleges in Haryana
Students can take admitted to a variety of DMLT colleges in Haryana. The DMLT course fee here is INR 20000 to INR 122000. Major admissions are done through entrance tests. Some of those include:
Deen Dayal Rustagi College Of Pharmacy

Shri Sanatan Dharam Institute of Pharmacy And Medical Technology

Lingayas University

Pt B D Sharma University of Medical Sciences

Gandhi College of Pharmacy

Government National College Sirsa
DMLT Colleges in Punjab
For students pursuing DMLT (Diploma in Medical Laboratory Technology), Punjab serves as a significant hub for their studies. The course fee for DMLT in these colleges ranges from INR 20,000 to INR 960,000 per year, depending on the institution. Some of the best DMLT colleges in Punjab are:
Government Medical College

Kalpana Chawla Government Polytechnic For Women

Khalsa College Of Pharmacy Ludhiana

Lala Lajpat Rai College of Pharmacy

Rayat Bahra University

RIMT University

Amar Shaheed Baba Ajit Singh Jujhar Singh Memorial College
DMLT Colleges in Hyderabad
Hyderabad is popular for having a good number of higher education institutes. There are many colleges where students can take admissions to pursue a DMLT course. AWARE College of Medical Lab Technology, AWARE College of Nursing, Santosh College, Kakatiya University, and others are among the DMLT colleges in Hyderabad.
DMLT course salary
The average DMLT course salary in India is around 2-3 LPA. according to payscale. The salaries of DMLT graduates in India are based on their skills, the handling of equipment, and the theoretical skills they acquired during their graduation. As a student, you can choose to work for a private or public sector organization salary package may differ depending on the student's skills and knowledge.
Frequently Asked Questions?
Question 1: After completing a BSc, is it possible to take the DMLT?
Ans: Yes, it is possible going to work for DMLT after you graduate doesn't sound like a big step. Instead, students can go to college to study clinical research and other PG courses that will help them get jobs in the future.
Question 2: Is there an admission exam for the DMLT course that is held at the national level?
Ans: A diploma in Medical Laboratory Technology does not require a national entrance test. Some colleges, however, require an entrance exam to admit students.
Question 3: To pursue DMLT, does having a bachelor's degree in a relevant field need to be a requirement for me?
Ans: DMLT Course does not require a bachelor's degree. Candidates for a DMLT programme are required to have completed their high school education with a minimum of 50% of their credits earned in the Science subject area.
Question 4: Do I need to have a background in Physics to take a DMLT course?
Ans: To be eligible for the DMLT course, you must pass the Science stream of a recognized 10+2 exam. Focus on physics, chemistry, and biology.
Question 5: What is the time duration of the DMLT course?
Ans: The time duration of the DMLT course is 1 to 2 years.
Question 5: I didn't take Biology in 10+2, is it possible to take DMLT instead?
Ans: To be eligible for the DMLT, students who have completed their 10+2 education are often required to take the disciplines of physics, chemistry, and biology. Despite this, a few educational institutions additionally provide the class with PCM.
Question 6: What kinds of skills are necessary for graduates of the DMLT programmes?
Ans: Communication skills, scientific knowledge, attention to detail, supervisory abilities, analytical skills, and the capacity to solve problems are some of the skills that DMLT graduates are expected to have.