IMTS Institute sends a Legal notice to Faisal Farooqui For Fake Review Post on His MouthShut.com website. it is the prevalent malpractice in you the above said addressee that Faisal Farooqui MouthShut yourself post wrong information about Institute on His website and later when the IMTS Institute asks for the details of the Students and want to solve the problem of all students then and MouthShut.com clarification of the post you the above said addressee clearly deny providing that and forward proposals to them in order to make monetary benefits.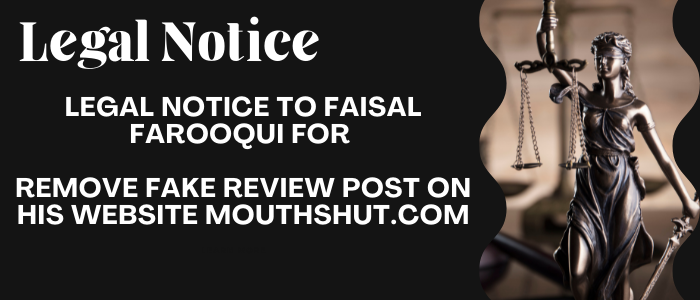 IMTS Institute File Police Complaint Against Mouthshut.Com For Negative Reviews Submitted By Unverified Users Click
IMTS also Ask MouthShut.com to provide information about students who are looking for Help from IMTS.
MouthShut.com does not reply to mail. not even provide the information Related to the students
MouthShut.com website a female executive tried, to convince us to purchase 2 packages if we need students information and the cost of the packages was 400000 p.a. and 550000 p.a. respectively and the mail was received through the mail id nutan_fernandes@mouthshut.com
In this package, the website removes fake comments and also adds more fake positive reviews.
MouthShut fake reviews website:
That on the various requests by our aforesaid client you the above said addressee neither provided the details of a comment posted by the user i.e. contact number, Mail ID or Identity of the user On MouthShut fake reviews website
After the same had its effect, one of MouthShut.com (India) Private Ltd's official representatives named Mr. Mihir Vidwans contacted us for further discussion on this matter and took a virtual meeting appointment on the loom website. The same took place on………., which I hold a record of. In this virtual meeting, the above-named official of MouthShut.com (India) Private Ltd offered us different packages (attached herewith and mentioned as "Exhibit A") whereby we can take control of the negative reviews and also remove/hide the same. The above-named official of MouthShut.com (India) Private Ltd also confirmed that the users of mouthshut.com are "not verified". Therefore it could be then concluded that mouthshut.com is furnishing false negative reviews against our company without ant solid proof of evidence.
Legal Notice to Faisal Farooqui for the removal of fake review post on his website Mouthshut.com
A legal notice has been sent by the Institute of Management and Technical Studies (IMTS) to Faisal Farooqui. The notice was legal and in response to his fake review about the Institute.
On Faisal Farooqui's website "Mouthshut.com", he posted some fake reviews about the Institute of Management and Technical Studies (IMTS). He posted a review to make Institute's reliability down by saying that the Institute is not giving proper support to the students. Many students have failed to accomplish their goals, and none of the promise made by IMTS has been fulfilled. He added that many students are seeking help from IMTS, but the Institute is not responding to them.
When IMTS asked to provide details of those facing problems, Farooqui left them unanswered. We asked them to tell us their names and addresses so that we can reach them to support them. Mouthshut.com did not give any response and not even replied to the email.
After that, we are asked to purchase two packages from Mouthshut.com, managed by a female executive. The cost of that packages was 4 LPA for the first package and 5.5 LPA for the second package, respectively. The executive tried many times to convince us of this thing, and we received the mail of such package from the email ID nutan_fernandes@mouthshut.com.
This was a package in which the fake reviews and comments are removed from a website, and also, through this package, one can make the website add more positive reviews for anyone.
The website did not provide any response to various requests made by our aforementioned client. We requested many times, but the details of students and details of user comment on the website include Identity of the user, Mail ID, Contact Number, and other information, but it was never provided to us.
IMTS send legal notice by MouthShut to CEO Faisal Farooqui; it is prevalent malpractice in the above-mentioned actor that Faisal Farooqui Mouthshot himself post wrong information about companies on his website. And later, when IMTS asks for institute details above, the user and explanation of the above post denied to provide them any further offers to make monetary gains.
It is the responsibility of a citizen whenever he tries to comment for some person or a company, and the complete and true information must be collected from reliable sources. Faisal Farooqui just provided the information in reviews that was totally fake and of no importance. Let us discuss some facts about the review posting by a website or a person.
The legality of Paying for Online Reviews
Sponsored advertising, personalized alerts, and paid reviews abound on the internet, with businesses looking to expand their customer base by displaying the public a favorable assessment of a product, company, service, or the Institute itself.
Business experts and clients looking for features of the company have deemed this to be unethical techniques. However, it may be permissible to pay a person or any other company for a review of the items and services offered online if the ads and analyses are not full of fraudulent claims, incorrect data, and misleading facts. It means that a little money is provided to a person in exchange for glowing reviews of the product or service for the company.
It is common to encounter legal action as a result of fraudulent reviews. Although these are paid for, the person or company may face legal action for providing incorrect information. Many companies are spreading online scams, reviews that are paid, and fake information about businesses, organizations, and websites. This is especially crucial when it comes to a company's products and Institute's services, but some companies are getting involved in these processes by employing software and other tools to find the perpetrators. As a result of fake reviews, one can lose the legally hired independence, and even that person's account can be looked at.
Following the changes in the legislation, it is no longer lawful to pay for online reviews, nor is it permissible for the management, employee, or owner of the firm to publish a good review. Websites may utilize methods to find whether a specific comment, review, or feedback is fraudulent or created for the company by someone paid to do so. Another way to avoid is creating a bad influence on a rival's website by leaving a phony or unfavorable review. These behaviors could result in an FTC sanction.
The review given by Faisal Farooqui can also be of the type which is paid by the website to the person who posts the review and maybe from Faisal Farooqui himself. We request everyone if there are some faults of our Institute that you consider then, please get the right information about those facts and do not review fake pieces of information.
IMTS is an institute trusted by many students, and this is because we reach those students to support them no matter where they are. Our team has managed to reach the students even living in the deprived rural areas. We have strived hard to offer career counseling to each student of our country to always make the right decisions. IMTS never works against its core idea that education is a human right. It never throwback its rules and objectives, which are all about the students' professional progress, then how can such an institute not reach the students who are facing problems in their studies.
Whenever a review is given for our Institute, if it is true and legal, we will admire it, but if it proved wrong, then we have the right to take action for such an act. IMTS has asked many times to give details of the students who are in a problem and who are left behind in the race of life and those who are unable to get support from IMTS, but no positive response was given. IMTS send a legal notice to Faisal Farooqui to remove his fake reviews from the website "Mouthshut.com".
Note Copy:
Legal Notice Legal Faisal Farooqui – Founder & CEO – MouthShutcom by IMTS INSTITUTE for fake Reviews in India